Howdy, fellow travelers!
If you're planning a trip to California, there's no doubt that you'll want to include a visit to one of the most iconic national parks in the country – Yosemite National Park. Located in the state of California, this majestic park is home to some of the most breathtaking scenery in the world.
Whether you're looking to hike through forests of giant sequoias, explore glacial valleys, or simply take in the incredible views, Yosemite National Park is sure to impress. In this guide, we'll give you all the information you need to make the most of your visit to this incredible park.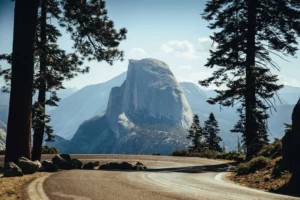 First, a little bit about the history of Yosemite National Park. The area that is now the park was first inhabited by Native Americans for centuries before the first Europeans arrived in the late 18th century. The park was officially established in 1890 and has been managed by the National Park Service since 1916.
Yosemite National Park covers an area of over 748,000 acres and is home to a variety of different ecosystems. The park is best known for its soaring mountains, waterfalls, and giant sequoia trees. One of the most popular attractions in Yosemite National Park is Half Dome, a granite rock formation that rises over 4,800 feet above the Yosemite Valley floor.
Hikers can reach the summit of Half Dome by climbing a set of cables that are attached to the rock face. Another popular destination in Yosemite National Park is Glacier Point, which offers panoramic views of the Yosemite Valley, Half Dome, and the Sierra Nevada mountains.
Visitors can also take a short hike to Sentinel Dome, another granite rock formation with stunning views. If you're looking for a more challenging hike, the John Muir Trail is a popular option. This trail runs for over 200 miles from Yosemite Valley to Mount Whitney, the highest peak in the contiguous United States.
Along the way, hikers will enjoy beautiful views of the Sierra Nevada mountains, as well as the chance to see wildlife such as black bears, deer, and coyotes.
No matter what your interests are, Yosemite National Park is sure to have something for you. So, what are you waiting for? Start planning your trip today!
Namaste!