Howdy! Today's blog post is a personal favorite. It's my second home where I studied at University in the '90s. 
Engelberg, Switzerland
From its humble beginnings as a medieval monastery, the town of Engelberg grew into what is now one of Switzerland's most premier ski villages. Centered around Kloster Engelberg, the 12th-century monastery which still to this day remains an internal part of the community was inspired by what sounded like angels singing. A knight who rode into the valley of Engelberg would later found the monastery that lies in the center of the town in 1120. The monastery has influenced the town's history for more than 900 years, being the meeting center for church groups, organizations, universities, and other institutions. To this day 30 Benedictine monks who work and live within its walls have contributed significantly to the development of this memorable destination. 
The town now offers year-round entertainment for all but it is also renowned for its artisan cheese, the cheese factory is located inside the monastery at the center of the village. Here visitors are treated to quite the unique spectacle of witnessing the timeless process of watching milk being tuned into the tasty treat by hand. Glass panels allow curious onlookers to see the unique manufacturing process. Known as Engelberg Klosterglocke', the cheese, which is described as having a mild taste, is pressed into the iconic shape of the monastery bell. 
Speaking of milk products, heiße Schokolade (hot chocolate) was an integral part of my college experience. After a tiresome day at school, some friends and I would grab this delicious drink that really defines the simplicity that exists in living in Engleberg, which is the significance of a cowbell. In some parts of the world, people are awakened by a sound of nature such as a rooster but in Engleberg, a lot of people get woken up by the ringing of a cow's bell when they're moving through pastures. Thereare simple pleasures in the village and that quality of life attracts many tourists who bring in revenue and help provide the luxuries that also exist in the town.
This is a site completely worth visiting because of the abundance of natural enchantment that the Titlis, Brunni, and Fürenalp mountains present. They are one of the principal attractions and go-to for tourists in the locality. When a town is occupied by treasured landscapes, there's always going to be something to admire and do.
Titlis Mountains

I'm going to get straight to one of the town's most popular adventures to get into, which is its snow sports. Engelberg would be the perfect Winter Olympics place because of all the kinds of action that occurs up in the Titlis mountains. The slopes appear to be freshly brushed with snow, appealing to the eye and powder riding enthusiast. Starting off with the activities you'd expect from a winter wonderland, skiing and snowboarding are ongoing within the months of October-May. Because of this, Engelberg is the place for individuals who enjoy sporty runs downhill. I know what some of you may be thinking, is the Titlist mountainside only predominantly used for a day of skiing and snowboarding? Well, let me tell you that there's way more to do in that area of crunchy ice. There is Winter Hiking which the name says it all, one walks up the mountains to demystify its bewilderment on foot. There is also snowshoeing, which is leaving traces of your feet on a fresh field of snow. Sledding is nice for the kiddos and also anyone who wants a more laid-back and fun task. Snow biking is also a cool thing to try on the mountains. Snow biking seems incredibly exhilarating, can you only imagine the panoramas that one will pass through on this go-kart-like drive?

Trübsee Lake
If you think Engelberg is only notable in the winter, you'd be highly mistaken. Contact your Travel Guru in order to help you plan an intriguing summer trip to Engelberg because I wouldn't want to give away all of Engelberg's secrets in one post. However, for you, I will give you some insight into what the town gets into when the majority of the snow is on vacation. Trübsee is an Alpine lake that many visit on their way to Engelberg Switzerland. The lake is situated at the bottom of the Titlis above Engelberg. Cable cars and walking paths make it accessible for people to reach this destination from the village. The hike to the lake is not too difficult and it is extremely necessary to visit because I mean look at it …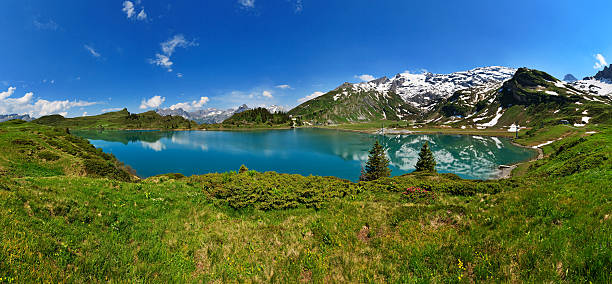 There's no better area to watch Titlis in the summer than Trübsee.
There are opportunities to row in the lake, multiple trail hikes that by the image above, one can tell it will turn heads almost every second of exploration. There is also Titlis adventure park which offers summer amusement, like zip-lining and their BagJump tower. 
There's not going to come a time were writing about this place will be enough. Not only is this place a sight taken from bucket lists, but there's so much to do that seven days has to be the minimum stay to spend here. Let's get in contact and plan your trip to Engelberg since there are plenty of things to experience here that I've left out!
Para Hispanoparlantes:
¡Howdy! La publicación de blog de hoy es un favorito personal. Se trata de mi segunda casa, donde estudié en la Universidad en los años 90.
Engelberg, Suiza
Desde sus humildes comienzos como monasterio medieval, la ciudad de Engelberg se convirtió en lo que ahora es uno de los pueblos de esquí más importantes de Suiza. Centrado alrededor de Kloster Engelberg, el monasterio del siglo XII que aún hoy sigue siendo una parte interna de la comunidad. Un caballero que cabalgó hasta el valle de Engelberg fundaría más tarde el monasterio que se encuentra en el centro de la ciudad en 1120. El se inspiro a construir el monasterio cuando el escucho un sonido que se parecia como el canto de ángeles. El monesterio a influido la historia de la ciudad durante más de 900 años, siendo el centro de reunión de grupos eclesiásticos, organizaciones, universidades, y otras instituciones. Hasta el día de hoy, 30 monjes benedictinos que trabajan y viven dentro de sus muros han contribuido significativamente al desarrollo de este destino memorable.
El pueblo ahora ofrece entretenimiento durante todo el año para todos, pero también es famoso por su queso artesanal, la fábrica de queso se encuentra dentro del monasterio en el centro del pueblo. Aquí, los visitantes disfrutan del espectáculo único de presenciar el proceso atemporal de ver cómo la leche se sintoniza a mano en el sabroso manjar. Los paneles de vidrio permiten a los curiosos ver el proceso de fabricación único. Conocido como Engelberg Klosterglocke ', el queso, que se describe como de sabor suave, se presiona en la forma icónica de la campana del monasterio.
Hablando de productos lácteos, heiße Schokolade (chocolate caliente) fue una parte integral de mi experiencia universitaria. Después de un día agotador en la escuela, algunos amigos y yo tomamos esta deliciosa bebida que realmente define la simplicidad que existe en la vida en Engleberg, simbolizada por un cencerro. En algunas partes del mundo, las personas se despiertan con el sonido de la naturaleza, como un gallo, pero en Engleberg, muchas personas se despiertan con el sonido de la campana de una vaca cuando se mueven por los pastos. Hay placeres simples en el pueblo, y esa calidad de vida atrae a muchos turistas que generan ingresos y ayudan a proporcionar los lujos que también existen en Engleberg.
Este es un sitio que vale la pena visitar debido a la abundancia de encanto natural que presentan las montañas Titlis, Brunni y Fürenalp. Las montañas son unas de las atracciones principales del pueblo y visita turística de la localidad. Cuando una ciudad está ocupada por paisajes preciados, siempre habrá algo que admirar y hacer.

Montañas Titlis
Voy directo a una de las aventuras más populares de la ciudad, que son los deportes de nieve. Engelberg sería el lugar perfecto para los Juegos Olímpicos de Invierno debido a todo el tipos de acción que ocurre en las montañas Titlis. Las laderas parecen estar recién cubiertas de nieve, es lo que atrae a los entusiastas que montan el polvo blanco. Comenzando con las actividades que esperarías de un paraíso invernal, el esquí y el snowboard continúan durante los meses de Octubre a Mayo. Debido a esto, Engelberg es el lugar para las personas que disfrutan de las carreras deportivas cuesta abajo. Sé lo que algunos de ustedes pueden estar pensando, ¿la ladera de la montaña Titlist solo se usa predominantemente para un día de esquí y snowboard? Bueno, déjame decirte que hay mucho más que hacer en esa zona de hielo crujiente. Existe el Winter Hiking, cuyo nombre lo dice todo, uno sube a la montaña para desmitificar su desconcierto a pie. También hay snowshoeing, que es dejar huellas de tus pies sobre un campo de nieve fresca. El trineo es bueno para los niños y también para cualquiera que desee una experiencia más relajada y divertida. El ciclismo de nieve también es algo genial para probar en las montañas. Andar en bicicleta en la nieve parece increíblemente emocionante, ¿puedes imaginarte los panoramas por los que pasarás en este viaje tipo go-kart?

Lago Trübsee
Si crees que Engelberg solo es notable en el invierno, estarías muy equivocado. Póngase en contacto con su gurú de viajes para que lo ayude a planificar un intrigante viaje de verano a Engelberg porque no me gustaría revelar todos los secretos de Engelberg en una sola publicación. Sin embargo, para ti, te daré una idea de en qué se mete toda la ciudad cuando la mayor parte de la nieve está de vacaciones. Trübsee es un lago alpino que muchos visitan de camino a Engelberg, Suiza. El lago está situado en el fondo del Titlis sobre Engelberg. Los teleféricos y los senderos para caminar, hacen que sea accesible para las personas llegar a este destino desde el pueblo. La caminata al lago no es demasiado difícil y es sumamente necesari visitarlo porque míralo…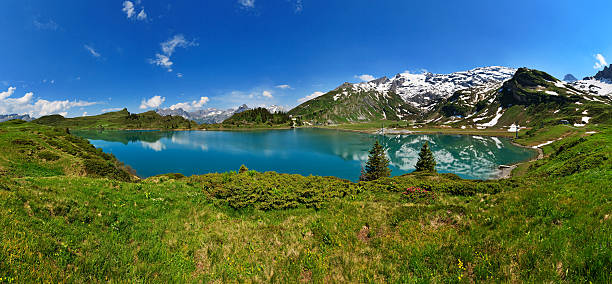 No hay mejor zona para ver Titlis en verano que Trübsee.
Hay oportunidades para remar en el lago, múltiples caminatas por senderos que, según la imagen de arriba, uno puede decir que llamarán la atención casi cada segundo de exploración. También está el parque de aventuras Titlis, que ofrece diversión de verano, como tirolesa y su torre BagJump.
No va a llegar un momento en que escribir sobre este lugar sea suficiente. Este lugar no solo es una vista tomada de las listas de deseos, sino que hay tanto que hacer que siete días deben ser la estadía mínima para pasar aquí. ¡Pongámonos en contacto y planifiquemos su viaje a Engelberg ya que hay muchas cosas para experimentar aquí que he omitido!