Howdy! looking for a tropical place to watch the sun wave hello to the world? How about a saltwater adventure that is perfect for you to try out a waterproof camera? or maybe you've been wanting to visit a mystical and quiet place to ponder over the wonders of life? If you said yes to any of these questions, then please read on!
Watch the sunrise at Bara Batur 
Located in the Kintamani district, you can trek Mount Batur in Bali, Indonesia, early in the morning and reward yourself by watching a magical view while standing on a sacred 50,000-year-old stratovolcano that is built from layers of lava, pumice, volcanic ash, and tephra. It is an active volcano but it is also safe to climb because it is highly monitored. 
The dry season is a very good time to climb this mountain because it becomes safer. The rainy season can make for dangerous slides, therefore one should visit during May-October. You can have a splendid morning view as your eyes graze across peaks and valleys while the sun peeks behind the mountains and sometimes through the overskirt of hanging clouds in the company of multiple monkeys also welcoming you and your breakfast (yes, you will run into many monkeys and doggies). This hike is not very easy but totally worth it, make sure to talk to your Travel Guru to give you more insight on how BHGH can personally plan for you to get up that volcano!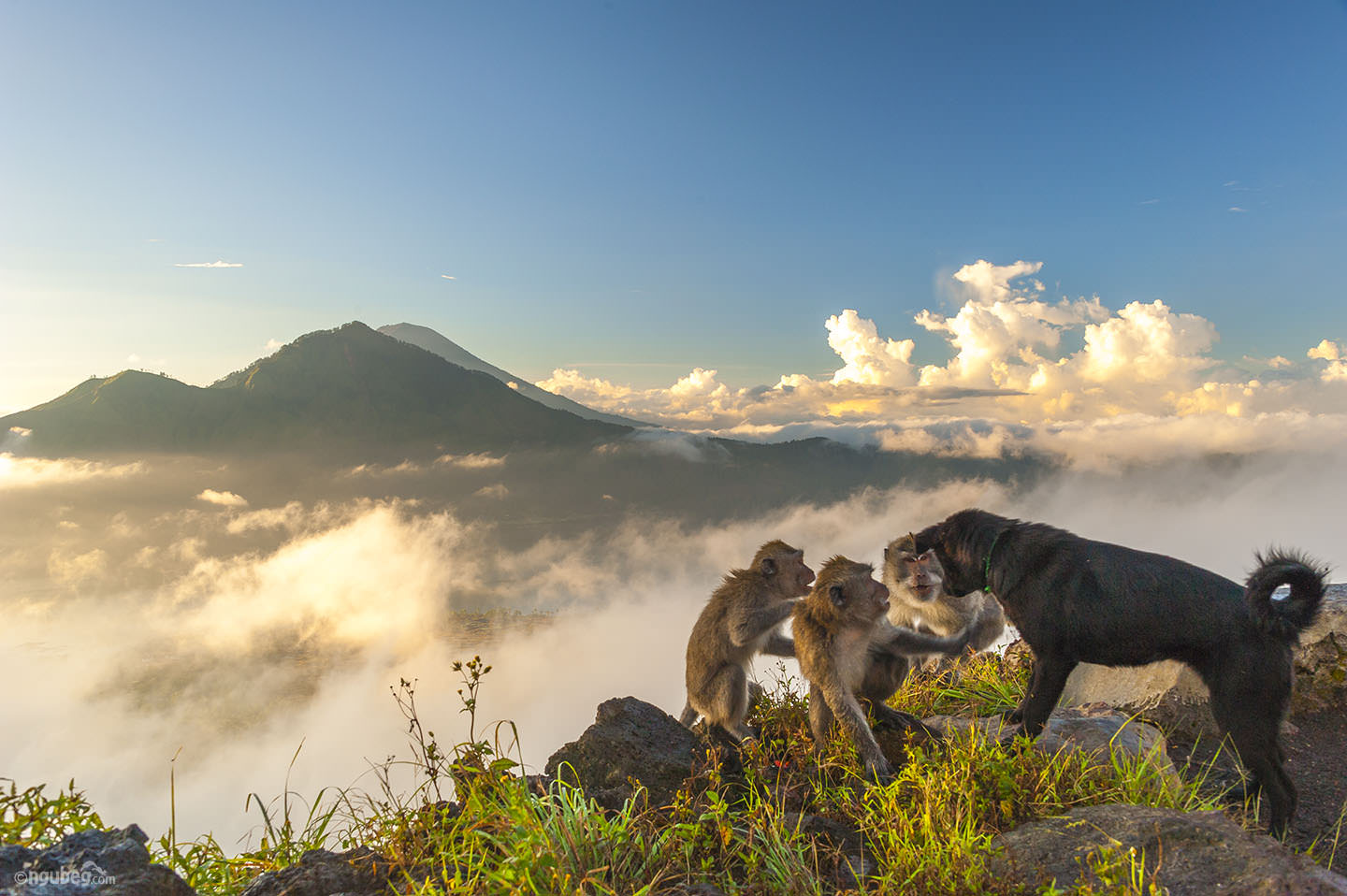 Komodo Islands Diving 
The Komodo Islands in Indonesia, are one of the top sites in the world to dive. The many manta rays in the area have a reputation of being an abundant animal to see under these waters, but there's also much more marine life to explore. The Batu Bolong scuba dive has corals as far as the eye can see, there are also strong currents in the area and that's why the volume of fish is high making it a place to see colorful small reef fish in the shallow waters to pelagic species the deeper one goes which definitely makes it a marine life photographer's paradise!
Tegalalang Rice terrace
Close to the village of Ubud in Bali, Indonesia, one can find the famous rice fields that you may have seen on many travel influencers' Instagram shots. This place may look familiar due to its popularity, however, it is an icon that one has to visit when in Bali. The field of rice paddies has terraced layouts which are a traditional Balinese irrigation system called Subak. The green landscapes will have you feeling like you're climbing the steps of a nature-made hill stairwell leading to something or somewhere that our eyes cannot perceive, perhaps a castle reigning over the jungle in the clouds. If you decide to visit the village of Ubud, know that you may likely find yourself in a place that is artful and spiritual. Wellness tourism is very much alive in Ubud, there are yoga schools, meditation centers, raw and vegan cuisines, as well as temples that may have one pondering the philosophies that they may have not yet considered and that are exalted in the people and locations of Ubud.
Para Hispanoparlantes:
¡Howdy! ¿Estás buscando un lugar tropical para ver el sol saludar al mundo? ¿Qué tal una aventura en agua salada que es perfecta para que pruebes una cámara resistente al agua? ¿O tal vez has querido visitar un lugar místico y tranquilo para reflexionar sobre las maravillas de la vida? Si dijiste que sí a algunas de estas preguntas, ¡sigue leyendo!
Ver el amanecer en Bara Batur
Ubicado en el distrito de Kintamani, uno puede caminar por el monte Batur en Bali, Indonesia, temprano en la mañana y recompensarse con la vista mágica de pie en un estratovolcán sagrado de 50,000 años de antigüedad que está construido de capas de lava, piedra pómez y ceniza volcánica, y tefra. Es un volcán activo pero también es seguro para escalar porque está muy monitoreado.
La estación seca es un muy buen momento para escalar esta montaña porque se vuelve más segura. La temporada de lluvias puede provocar derrumbes peligrosos en la montaña, por eso se debe visitar durante Mayo-Octubre. Puede tener una espléndida de picos y valles, mientras el sol se asoma detrás de las montañas y, a veces, a través de una falda de nubes colgantes en compañía de varios monos que también le dan la bienvenida a usted y a su desayuno (sí, se encontrará con muchos monos y perritos). Esta caminata no es muy fácil, pero vale la pena, ¡asegúrate de hablar con tu Travel Guru para que te brinde más información sobre cómo podemos planificar personalmente para que subas a ese volcán!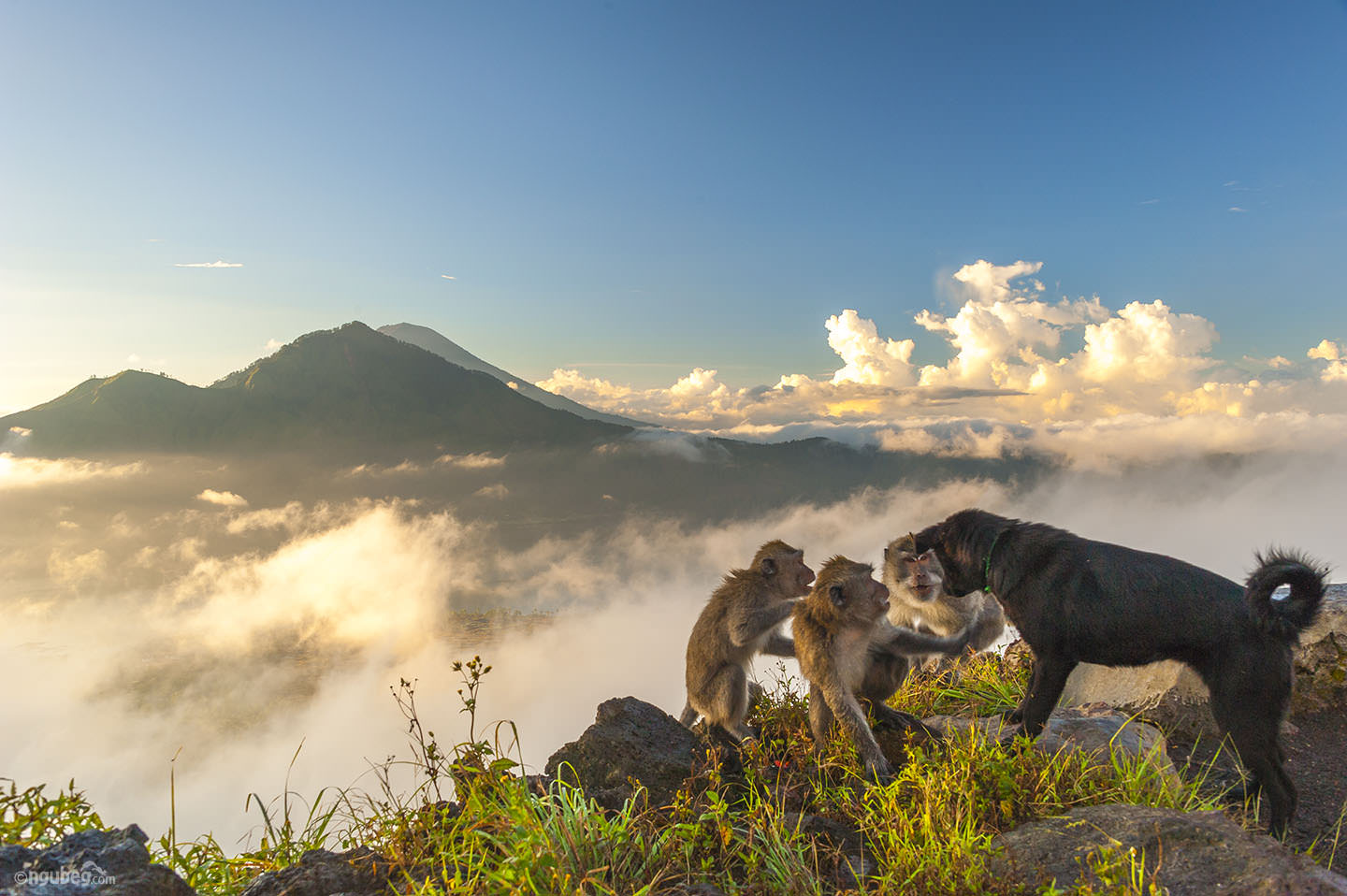 Buceo en las islas de Komodo
Las islas de Komodo en Indonesia es uno de los mejores sitios del mundo para bucear. Las numerosas mantarrayas de la zona tienen la reputación de ser un animal abundante para ver bajo estas aguas, pero también hay mucha más vida marina para explorar. El buceo de Batu Bolong tiene corales hasta donde alcanza la vista, también hay fuerte corrientes en el área y es por eso que el volumen de peces es tan alto, lo cual lo convierte en un lugar para ver pequeños peces coloridos de arrecife en aguas poco profundas hasta especies pelágicas cuando uno va más profundo, lo que definitivamente lo convierte en un paraíso para los fotógrafos marinos.
Terraza de arroz de Tegalalang
Cerca del pueblo de Ubud en Bali, Indonesia, se encuentran los famosos campos de arroz que quizás hayas visto en las fotos de Instagram de muchas personas influyentes en viajes. Este lugar puede parecer familiar debido a su popularidad, sin embargo, es un ícono que uno debe visitar cuando está en Bali. El campo de arrozales tiene diseños de terrazas que es un sistema de riego tradicional Balinés llamado Subak. Los paisajes verdes te harán sentir como si estuvieras subiendo los escalones de una colina hecha por la naturaleza que lleva a algo o algún lugar que nuestros ojos no pueden percibir, tal vez un castillo que reina sobre la jungla en las nubes. Si decide visitar el pueblo de Ubud, sepa que es probable que se encuentre en un lugar artístico y espiritual. El turismo de bienestar está muy vivo en Ubud, hay escuelas de yoga, centros de meditación, cocinas crudas y veganas, así como templos que pueden ayudar a uno a reflexionar sobre las filosofías que quizás aún no ha considerado y que son exaltadas en las personas y lugares de Ubud.