Howdy there, travelers!
If you're anything like us, you love nothing more than getting out there and exploring all the amazing hiking trails that Los Angeles has to offer. With so many incredible spots to choose from, it can be tough to decide where to go. To help you out, we've put together a list of our top 5 favorite hiking trails in Los Angeles.
So whether you're looking for a challenging hike with amazing views or a leisurely stroll through some of LA's most beautiful scenery, we've got you covered.
1. Runyon Canyon
One of the most popular hiking trails in LA, Runyon Canyon is a great option for both beginner and experienced hikers. The trail is well-maintained and offers stunning views of the city. And if you're feeling up for a challenge, you can always take the stairs instead of the fire road.
2. Griffith Park
Griffith Park is one of the largest parks in Los Angeles and is home to a variety of hiking trails. From easy trails with great views of the Hollywood Sign to more challenging hikes with incredible city views, there's something for everyone here.
3. Echo Park
Echo Park is a great option if you're looking for a more challenging hike. The trail is steep and can be a bit challenging for beginner hikers. But the views from the top are definitely worth it.
4. Mt. Hollywood
Mt. Hollywood is one of the highest peaks in Griffith Park and offers some of the best views in the city. The trail is relatively challenging, but the reward is an incredible panorama of Los Angeles.
5. Topanga State Park
Topanga State Park is a huge park with over 36 miles of hiking trails. With so much to explore, you could easily spend a whole day here. And the best part is that you can find a trail to suit any level of experience.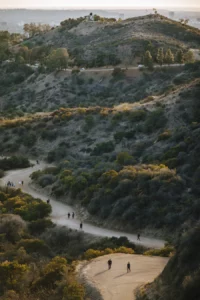 So there you have it, our top 5 favorite hiking trails in Los Angeles. So get out there and explore all that this amazing city has to offer!
For those of us that missed out on our last post click here to explore some of the best seafood Maine has to offer.
Namaste!